| | | |
| --- | --- | --- |
| | Focus On Floor Tile Machine With 21 Year | |
Interlocking Tiles Making Machine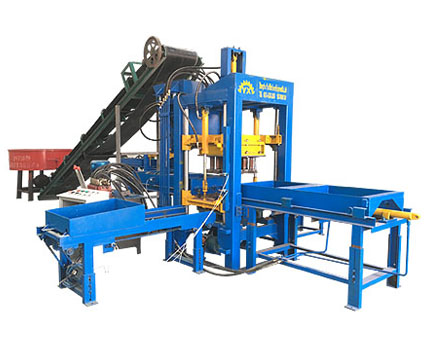 Introduction
We adopt the most advanced Italy technology, and the equipment can be customized according to your requirements. If you have any questions, please contact us!Interlocking Tiles Making Machine, also used as paving tile equipment, stone processing machine and crusher, is a kind of single-layer & double-layer terrazzo tile equipment.
Application
Provide Customized Production According To Customers' DemandInterlocking tiles machine is widely used in sidewalk, square, roof tile, curbstone, paver, swimming pool, home use washroom, kitchen, community, hospital, etc. And the raw material can be concrete, cement, gravel, stone powder, etc.
Main Structure
The frame of interlocking tiles plant is 4-column type or dragon gate type, mainly formed of piston type cylinder, cylinders for lifting up and down of tile machine, cylinders for lifting up and down of mould frame, swing cylinder, etc. It can produce interlocking tiles automatically together with hydraulic system, which includes various valves, pneumatic system and PLC electrical system.
PRODUCT DETAIL
Best-selling Floor Tile Making Machine
● Feeding System

360 degrees mixing feeding system of interlocking tile machine, speedy and rotating feeding, with uniform stirring, to make sure that the density and intensity of the colorful paving block products are guaranteed.

● Stored Material Separating Device

Automatic control of the material supply to ensure uniform supply, minimal error of products intensity, and the 3-20 model is unique technology of Yuxi.

● Vibration System

Electro-hydraulic technology-driven, multi-source vibration, vertical vibration companion, realizing low frequency feeding, high-frequency molding, get the best jolt ramming effect.

● Vibration Mode

Integration of vibration in storage bin and full sync integration platform vibration mode, tap the machine to achieve the best results.

● PLC System

Electrical control system of whole machine uses PLC system, computer interface operation, random signal analysis, fault diagnosis and parameter setting, ensure the best working results.

● Control System

Computer control, human-machine interface, electric appliance adopts Japan Mitsubishi Electric and other brands, integrated control program with 15 years of actual production experience, combined with the international trend, designed to meet national conditions.