| | | |
| --- | --- | --- |
| | Focus On Floor Tile Machine With 21 Year | |
Floor Tile Production Line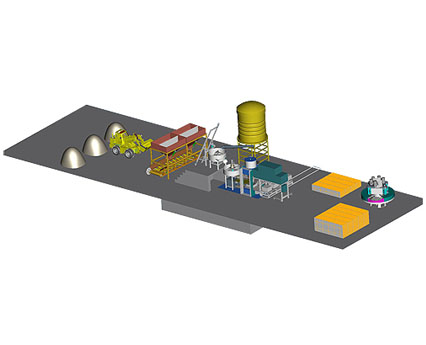 Introduction
We adopt the most advanced Italy technology, and the equipment can be customized according to your requirements. If you have any questions, please contact us!Floor Tile Production Line is popular in modern society for making cement and concrete color tiles. Yuxi terrazzo tile production line adopts advanced technology like PLC automatic control and hydraulic press, which is fully automatic. And it has better mechanism capability and economic benefit, widely used in building and ancient architecture, etc.
Work Flow
Provide Customized Production According To Customers' DemandThe cement tiles production line includes cement tiles machine, bucket elevator, mixer, doser, etc. Elevating--- Mixing --- Fixed-quantity filling --- Pressure forming --- Mould unloading --- Forming tiles --- Onto the tiles shelf --- --- Stacking --- Curing (24 hours)--- Polishing --- Finished products.
Working Procedure
After transported by bucket elevator, raw material mixed with water for certain proportion in the vertical mixer. Feed the mixture evenly to the doser. Under the high pressure of a hydraulic cylinder and a tile mould, the semi-finished concrete tiles change into concrete tiles after maintenance and painting, being produced.
PRODUCT DETAIL
Best-selling Floor Tile Making Machine
♥ Bucket Elevator

Cement, crushed stone, stone powder and sand (Note:Sand Is Used Only In UN-Polished Tiles) are poured into bucket elevator at position one.

♥ Mixer

Cement, crushed stone, stone powder and sand (Note: Sand Is Used Only In UN-Polished Tiles) are transported by bucket elevator into mixer. After watering, the raw materials will be mixed evenly and poured into doser.

♥ Doser

Doser adopts pneumatic drive technology, with air cylinder the mixer feed and graduated cylinder ration; High accuracy and low error.

♥ Floor Tile Making Machine

Our floor tile making machine is PLC controlled and human-machine interface. Controlling system adopts Japan Mitsubishi and Taiwan Taida PLC System. Integrate mechanical and electrical, hydraulic pressure and pneumatic, making the hole system automation degree high and good handing.

♥ Mould

Adopt Cr12 and other special mould steel materials. Through forging, milling, cutting, grinding, carving and quenching, the mould has high accuracy, strength and abrasion resistance, wear well without any distortion.

♥ Automatic Polishing Machine

The automatic polishing machine, moved by hydraulic or pneumatic way, is used to fix thickness, grind and polish for terrazzo tile.